#BeyondTheHashtag: 4th Anniversary Closing Celebration
Friday, October 22, 2021
Join us to close out the 4th anniversary of the viral #MeToo hashtag. We'll be centering joy, and celebrating through art, yoga, and dance! The 4th Anniversary Day of Celebration will feature a Morning Meditation, and Afternoon Concert live on Facebook. We'll finish with an Evening Ceremony & Closing Party that grounds us in the legacy of survivor justice advocates and showcases artistry that advances the movement to end sexual violence. Watch the Evening Ceremony & Closing Party live below!
We want to stay connected with you! Enter your contact info below to join the movement.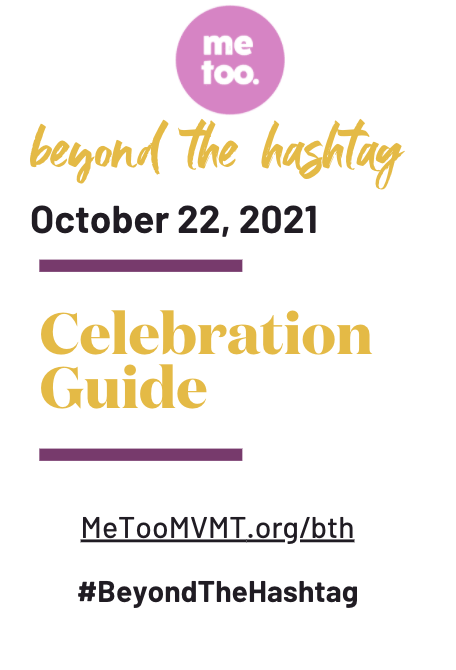 Download Our Celebration Guide
This guide exists as a compass to help you navigate all of our offerings in honor of our 4th Anniversary. Use it to access our programming schedule, virtual links, and get a feel for each program. Whether you are tuning in for self-care or community care (or both!), you can use this guide to access tools for healing and joy.
As you tune into each anniversary event, we ask you to consider our guiding questions:
Which ancestor from your family lineage would have celebrated this anniversary? How can you honor them as you celebrate with us?
What are some everyday wins you have witnessed in the movement to end sexual violence?
How can our empathy with the survivors we know stretch to survivors around the world?
You can meditate, journal, or offer them as check-in questions for a watch party you may host. And if you catch yourself or your crew dropping some gems, tweet us using #BeyondTheHashtag.